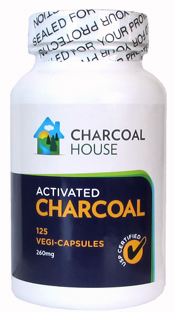 Charcoal House™ Activated Charcoal Pills
For a frequent traveler, activated charcoal capsules are a convenient and effective way to prevent and treat a variety of common digestive problems. When taken internally, activated charcoal helps eliminate such symptoms as nausea, indigestion, heartburn, and diarrhea. It has also been found to relieve some of the unpleasant symptoms of colitis, irritable bowel syndrome, and Crohn's disease.
With all the same great properties of the activated charcoal powder sold at BuyActivatedCharcoal.com, and made from the same USP food grade charcoal, the capsules are ideal for anyone who prefers the ease and portability of capsules. You can take them anywhere with no mess or fuss. Keep some in your desk and in your car for when problems arise when you're away from home.
Stock Your Medicine Cabinet with Activated Charcoal Pills
Activated charcoal pills have a couple advantages over the powder. Capsules are a convenient way to introduce activated charcoal to first-time users. Capsules are easier to take when you are away from home. And, of course, capsules are easier to carry in your briefcase, purse, or luggage when you travel.
Think about how many items in your medicine cabinet could easily be replaced with one single bottle of activated charcoal capsules. With activated charcoal capsules on hand you will have a safe alternative remedy to treat colds, gas, infection, acid reflux, and colic. And, because taking too much activated charcoal is not a concern, you won't have to worry about the risks of accidental overdose.