Charcoal House™ Activated Charcoal Tablets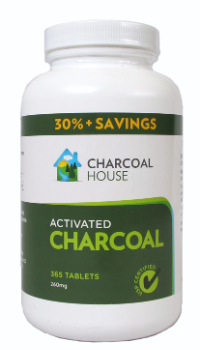 The activated charcoal tablets sold at BuyActivatedCharcoal.com are created from only the highest quality, USP food-grade charcoal. With the same excellent health benefits as the powder, these tablets have a few great advantages. If you have a sore throat, the tablets can be used as a lozenge, soothing your throat and bringing relief that you won't find in any ordinary cough drop. They can also be used for tooth infections. These tablets are conveniently portable and easy to ingest.
It's not uncommon to experience nausea and other gastro-intestinal problems when traveling. Whether it is heartburn, indigestion, or even a bout of food poisoning, you'll benefit from packing a bottle of activated charcoal tablets in your luggage. With them on hand, you can go ahead and enjoy your trip knowing that fast relief is always nearby.
The Use of Activated Charcoal Tablets for Dental Infections
Although this may be your first experience with activated charcoal tablets, know that many have benefited from their pain relieving properties. If you are suffering from a dental infection, just place a tablet against the tooth and suck on it while the activated charcoal adsorbs the pain-causing toxins. Did you know the International Academy of Oral Medicine and Toxicology (IAOMT) recommends rinsing the mouth with activated charcoal before the removal of dental amalgam? You'll find more information on all of the uses for activated charcoal tablets at BuyActivatedCharcoal.com, including testimonials from our loyal customers.
You may be so intrigued by the information presented to you here that you'll want to learn even more. In addition to charcoal tablets and powders, we offer a variety of resources that will give you an even more in-depth look into the healing properties and uses of activated charcoal. A popular and highly recommended book is CharcoalRemedies.com, which can be purchased in print or as an eBook through our website.